It is common practice nowadays for job interviews to be prefaced with a quick conversation over the phone. The purpose of this, as detailed in an article from The Balance, is for recruiters to decide which candidates are the most suitable and qualified to meet with managers in person. Given their brevity, it can be easy to overlook the importance of that first conversation on the phone. This is a mistake. After all, as the old saying goes, first impressions count, and the phone conversation is your opening opportunity to wow recruiters and make them eager to offer you an in-person interview.
This is no easy feat. Speaking on the phone presents its own challenges, and it's primarily down to the lack of body language, or non-verbal cues. As reported by Fast Company, researchers believe that that a majority of communication – around 55 percent – is disseminated via body language, and not spoken words. It is estimated that language itself constitutes just 7 percent of human communication. In the phone interview, however, all you can really rely on is language, as well as the tone of your voice.
Given the inherent difficulty of this set-up, it's crucial to prepare properly for your phone conversation. Thankfully, there are number of useful tips that can help you bring your A game and wow the recruiter on the end of the phone. Some of the most effective approaches include:
1. Choose an ideal location
The most important first step is to choose a location devoid of background noise and other distractions. Your home office or bedroom will likely be ideal – avoid bustling coffee shops or other public places if at all possible. The Muse advised ensuring that other potential distractions are taken care of, such as child and pet care. If anyone else is home with you, politely ask them to remain quiet for the duration of the call and to turn off the television, or music if they are playing it.
"Choose a location that is devoid of background noise and other distractions."
If your interview is taking place via a video conferencing platform such as Skype, you'll also have other considerations to think of. Tidy up the room you are in and ensure that it looks neat and uncluttered. Remove any items that are overly personal. Also be sure to take care of your appearance as you would for an in-person interview. This means doing your hair and wearing a professional outfit – absolutely do not take the call in your pajamas!
2. Do some research
Be sure to do some research into the company before your interview, in the same way you would for an in-person meeting. Paul Bailo, author of "The Essential Phone Interview Handbook," told Forbes that you should ideally start the preparation process at least a couple of days before the call, by conducting an investigation into the company online. Visit their website and don't forget to check out their presence on social channels such as LinkedIn and Twitter. Once you have a firm understanding of what the company does, think about the things you want to learn more about – whether that's the office culture, how much room there is for growth and so on. Use these talking points in the conversation and frame them as questions – it indicates to the recruiter that you have a vested interest in the position and that you did your homework.
3. Prepare for interview style questions
As noted by USA Today College, it's routine for recruiters to ask you questions similar to those you may be asked in an interview, so be sure to prepare. Go over your resume and ensure that you remember your work history inside out. Also prepare answers to questions such as "What are your greatest strengths?" and "What attracted you to this position?" Remember, the phone interview is your first opportunity to market yourself and your accomplishments.
4. Keep on smiling
Unless you're chatting on Skype, facial cues, such as smiling, don't matter right? Actually, wrong. According to The Balance, smiling while talking can actually have a positive impact on the tone of your voice, making it sound more warm and friendly. So smile away!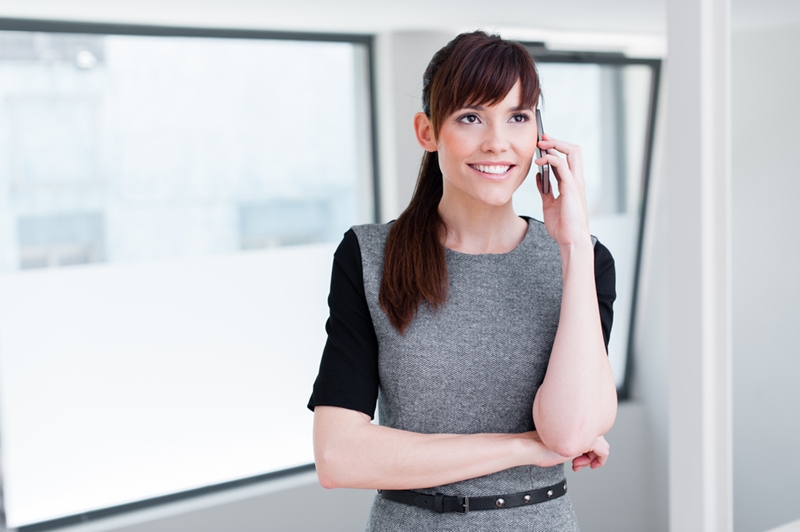 5. Communicate clearly
Clear verbal communication is absolutely key, especially as you will be unable to rely on nonverbal cues. As detailed by The Balance, this means speaking at a measured pace and not mumbling. It also means enunciating your words clearly. Furthermore, it is crucial to take your time. Think about the question being asked and then formulate an answer that is detailed and straightforward, but also concise. In other words, do not mumble or ramble on without a clear point. This will make you seem nervous and unprepared. Also, under no circumstances should you speak over or interrupt the recruiter – this is simply a matter of common courtesy. Wait until the person on the other end has finished speaking before you give an answer or make your next point.
6. Keep materials in front of you
As detailed by The Muse, one major advantage of the phone interview is that you can have all pertinent information in front of you for easy reference, including your resume and the website of the company you are applying to, so be sure to have these materials on hand, as they will help when it comes to answering questions about your professional life, as well as asking questions of the recruiter.
The Muse included a quote with director of business development and research at PGAV Destinations, Ben Cober, who elaborated on the above point.
"You can have notes in front of you—without your interviewer knowing," he said. "Place your resume in front of you, [and have ready] news about the company, questions you want to ask , and potential talking points."
7. Follow up
If the phone interview goes well, there will likely be next steps to consider in terms of arranging an in-person interview. In any case, however, it is important to send a follow-up email thanking the recruiter for his or her time, The Balance advised. Aim to do this within 24 hours of the call itself. Be sure to thank highlight your ongoing interest in the role, perhaps stressing some of the most compelling points you made in the discussion. Don't make the email too long, however. A couple of concise sentences should do the trick.