In a field like user experience, there is no time to fall behind. The industry is in constant motion, with new skills and concepts to learn and apply to your work every day. If you're looking to become an attractive candidate on the job market or make sure you're always putting out your best designs, check out these four ways to keep your UX chops fresher than ever:
1. Read everything
Well-read designers can not only keep up with the industry, they can probably outrun it too. In such a fast-paced field, there is an almost overwhelming amount of media to consume about it, but that shouldn't discourage you from diving in. The more you absorb, the better, especially since research is such a huge part of UX design. Reading far and wide sharpens your skills in that aspect of your job, while keeping your finger on the pulse of the industry.
2. Review your previous work
When trying to keep up with current events, it seems counterintuitive to look to the past, but hindsight is an invaluable resource. We are constantly learning from our mistakes and successes throughout our lives, so why not apply that idea to your design? While some lessons might stick with you, others could be forgotten. The Interaction Design Foundation recommends looking through past projects to see what worked, what didn't and what you can use now.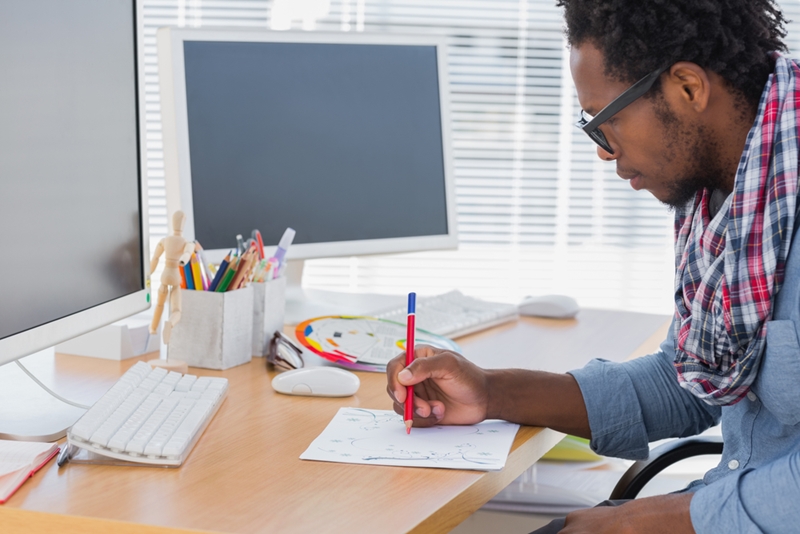 3. Engage in creative projects
Don't forget the fact that you're a designer, and a huge part of your job is creative expression. Design Your Way recommends that designers spend time drawing, sketching or engaging in other similar creative projects.
The site explains that these activities will keep you in touch with your passion for design, and even help you come up with fresh, exciting ideas for your clients. It also reminds you of certain design essentials and principles, like negative space, alignment, perspective, and more. Plus, according to UIE, sketching is one of the five indispensable skills for "UX mastery," as it can help you quickly convey your ideas for a design.
You never know what you'll come up with in these projects. A little time away from screens can be just the break you need to come up with something absolutely brilliant.
4. Talk with other designers
Your colleagues are another highly available yet potentially overlooked resource as you try to continuously sharpen your UX skills. While some may be just as lost as you in the trenches, others may have more wisdom to impart, making them great mentors.
From them, you can learn about a variety of experiences, gain an expert's insight on the field or make important connections as you navigate the job market. As UX for the Masses notes, being a team player is an essential part of the job. At the very least, making a point of speaking more with other designers can help you refine your people skills.
Whatever ways you decide to stay current with the latest in UX, be sure to make a habit of it. In job interviews, you'll be able to effectively express and demonstrate how passionate you are for UX design, which can help you stand out among other candidates.